Have you just been in a car accident, and you're not sure if you are injured?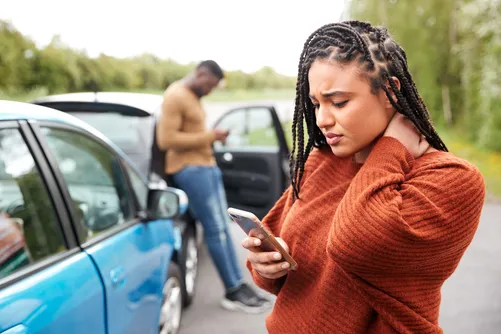 We give priority assessments and treatment to urgent same- or next-day walk-ins from those who have just been in a car accident. Don't delay, we're here to help.
We understand how it is to feel in total shock and unsure of next steps after a traumatic accident. That massive rush of adrenaline can make you think you are not injured, until days later when you start to have neck and body pain, and other symptoms like headaches, sleeplessness, fatigue and difficulty concentrating.
Whiplash and musculoskeletal trauma resulting from car accidents can be debilitating and long-lasting if not treated right away… and the right way. It's never too late to reverse the effects of car accidents, but the sooner you begin treatments, the faster and more effective the results.
Dr Carnes is certified in Whiplash Injury Biomechanics & Traumatology
With Dr Carnes' advanced training in Whiplash & Brain Injury Traumatology through the Spine Research Institute of San Diego (SRISD) along with specialty trainings in Disc, Head & Neck Injury Diagnosis, MRI Diagnosis and other injury diagnosis common to auto collisions, he is able find deep tissue damage that others miss, thus able to recognize and treat correlating symptoms.
5 lesser-known symptoms commonly experienced after auto accidents



Numbness of the Back, Neck, Shoulders and Joints
Headaches, Fatigue & Dizziness
Blurred Vision, Ringing in the Ears
Difficulty Concentrating & Memory Problems
Sleep Disturbance, Irritability & Depression
More than 4.4 million people are injured in motor vehicle crashes in the U.S. each year, costing victims more than $380 million in direct medical costs, missed work days and prolonged suffering. But many of these outcomes can be avoided by getting yourself and your passengers checked out and started with Chiropractic after-care right away.
Schedule an evaluation with Dr Carnes
by calling 631-849-1586 or submit a request below
We will prioritize your appointment as best as we can so you can come in right away.
It is not necessary to get a doctor or lawyer referral to see a Chiropractor after an auto accident. And Chiropractic treatments are generally available at no cost to you under most car insurance plans. We're available to you to answer any questions you might have and help walk you through the injury claim process.