We have invested in advanced treatment and examination equipment in order to provide the most precise and comprehensive care tailored to your sensitivities and needs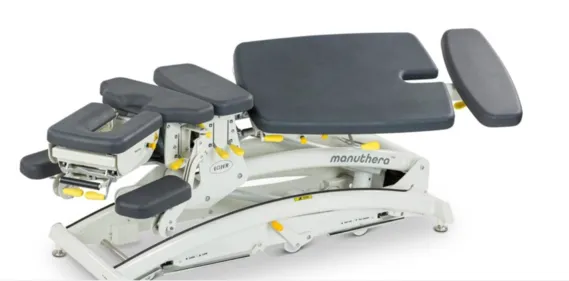 The human body is one of nature's most advanced high-tech marvels, combining extremely complex interlocking component systems, each with unique functionalities. From soft connective tissue to tightly articulated ligaments and tendons to bone. Blood vessels and nerve fiber intertwine precisely around vertebrae, joints and organs. And all are designed to allow us to enjoy an incredible range of motion, compression and flexion.
Adding true complexity to the mix, is the introduction of misalignments due to congenital curvatures and malformations, traumatic injuries, tension, repetitive motion fatigue, surgical interventions and implants with scaring, disease and environmental toxicity.
"This table is like having several multi-function treatment devices in one. It has given us an array of capabilities and tools for helping alleviate suffering from those who may otherwise think the are being help or cannot afford specialized treatment." — Dr Carnes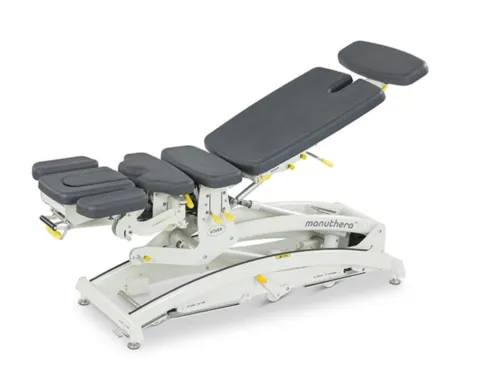 The Manuthera 242 Treatment Table is designed to support the work of chiropractors, physical therapists and sports massage therapists in the following ways:
Segmented multi-traction and full range of motion allows for deeper, more advanced therapy not possible with one-piece flat tables
Motorized functions reduce the need for the patient to move themselves into positions that might otherwise have felt awkward or uncomfortable
Smooth manual movements follow the body's lead on articulation, allowing gravity to do the work, rather than force
Lifting/Lowering of the table allows those with disabilities and limited motion to get on and off the table with ease
Enhanced ergonomics reduce therapist fatigue
Gentle, smooth and precise transitioning to traction and decompression, flexion and extension without asking patients to move themselves or get up and move to another table or device... or incur extra expenses!

The Manuthera 242 Treatment Table excels at treating patients with extremely sensitive conditions and flare-ups, including:

Acute and chronic herniated and bulging discs
Painful sciatica and pinched nerves
Muscle strains, sprains and tightness
Arthritis and fibromyalgia
Post surgery stiffness and pain
Concussions and traumatic brain injuries
Bodily trauma following falls and auto accidents
Persistent back and neck pain
Call 631-849-1586 today to schedule a consult and evaluation
We're here to answer any questions you may have about how we can tailor our treatments to your sensitivities and needs using the Manuthera Treatment Table, along with other modalities and specialized equipment.‭